Compliance Contrast Checker
Our Compliance Contrast Checker helps determine the accessibility of text size, color contrast, and spot check your visual elements. People who are color blind and have impaired vision can experience sensitivity and often physical pain to certain colors and shades of light. When you adjust your assets with accessibility and compliance in mind, you create a more pleasant environment for everyone.
The inventors of the internet, World Wide Web Consortium (W3C) have developed Web Content Accessibility Guidelines, better known as WCAG, for color contrast and text. You can scroll down for the textbook jargon or save the leg work by using our Compliance Contrast Checker with built-in ADA-compliant requirements.
We encourage you to check your asset's compliance for better design and accessibility.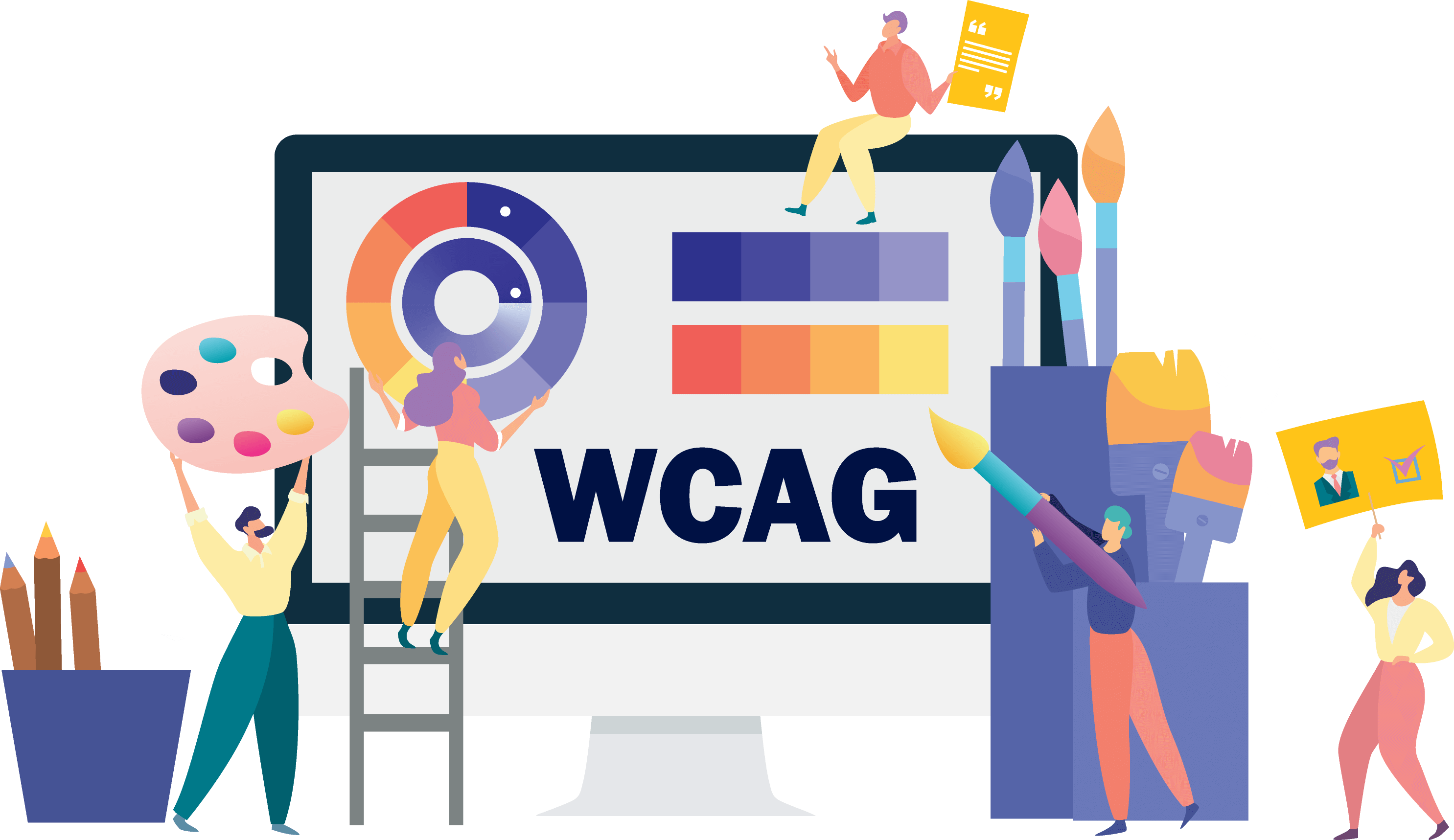 color #1
Clicking the "bump color #1 to 4.5:1" button below will update the content above
normal size 14pt
The quick brown fox jumps over the lazy dog
large size 18pt
The quick brown fox jumps over the lazy dog

color #2
Clicking the "bump color #2 to 4.5:1" button below will update the content above
normal size 14pt
The quick fox jumps over a lazy brown dog.
large size 18pt
The quick fox jumps over a lazy brown dog.
meets WCAG requirements
normal text
Normal Text
pass
large text
Large Text
pass
21

:

1

color contrast ratio
Have a question
?
We're always here to help.
The ADA prohibits any private businesses that provide goods or services to the public, referred to as "public accommodations," from discriminating against those with disabilities. Federal courts have ruled that the ADA includes websites in the definition of public accommodation. As such, websites must offer auxiliary aids and services to low-vision, hearing-impaired, and physically disabled persons, in the same way a business facility must offer wheelchair ramps, braille signage, and sign language interpreters, among other forms of assistance.
All websites must be properly coded for use by electronic screen readers that read aloud to sight-impaired users the visual elements of a webpage. Additionally, all live and pre-recorded audio content must have synchronous captioning for hearing-impaired users.
Websites must accommodate hundreds of keyboard combinations, such as Ctrl + P to print, that people with disabilities depend on to navigate the Internet.
Federal lawsuits filed in 2017 increased 225% over 2016; this percentage would be significantly higher if it included litigation filed in state courts against thousandsof businesses. Retail businesses have been hit hardest, followed by hotels, restaurants, colleges, hospitals, casinos, and banks. But any business that maintains a website, regardless of its size or industry, is vulnerable.
Big box retailer Target Corp. was ordered to pay $6 million – plus $3.7 million more in legal costs – to settle a landmark class action suit brought by the National Federation of the Blind. Other recent defendants in these cases have included McDonald's, Carnival Cruise Lines, Netflix, Harvard University, Foot Locker, and the National Basketball Association (NBA). Along with these large companies, thousands of small businesses have been subject to ADA web litigation.
Defendants in ADA lawsuits typically pay plaintiff's legal fees, plus their own web acccessibility auditing and remediation costs. In all, the average cost can range from tens of thousands of dollars and above six figures. Furthermore, if the remediation is incomplete, copycat suits and serial filers can follow, meaning double or triple the outlay. There are also high intangible costs for a business, such as added stress, time and human capital, as well as reputational damage.