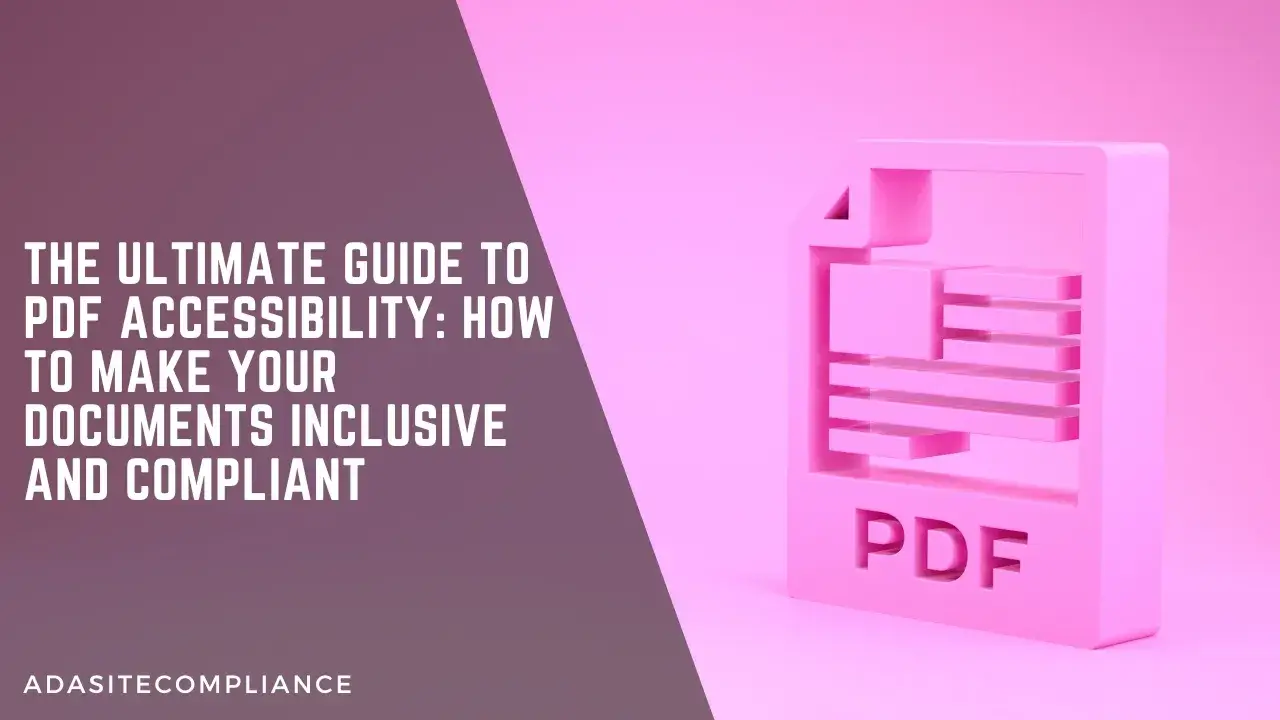 The Ultimate Guide to PDF Accessibility: How to Make Your Documents Inclusive and Compliant
Share via:
In today's digital age, Portable Document Format (PDF) files have become an integral part of our information-sharing process. Whether educational materials, corporate reports, or government publications, PDF files with Accessibility maintain the original formatting and allow users to access information consistently across various devices.
However, for PDFs to be truly effective, they must be accessible to all, including those with disabilities. Besides, as about 61 million adult Americans have some disability, you risk their not being able to access the ADA-compliant PDFs and content you create.
And it's not just those with visual impairments that are affected. Even people with a mobile or hearing disability may face problems accessing your web content or PDF.
This is why the ADA and Section 508 focus on making life for those people with disabilities much easier. They require that places of accommodation be accessible to users with disabilities. As PDFs are commonly used on the web, they also have to comply with these laws based on the criteria set by the WCAG.
While web compliance is important, creating accessible web content can be challenging. PDFs are especially difficult to manage as they are complex files inaccessible out of the box. It's only experts who know WCAG and ADA standards well who can take care of the task.
We have provided some tips about PDF accessibility features in this article. However, don't worry if the information overwhelms you. We at ADA Site Compliance can help if you don't know how to ensure your website or PDF is accessible.
Our team of accessibility experts will not only check your PDFs and website content for accessibility but also constantly monitor and update your website and PDFs based on the latest accessibility updates.
Overview of Portable Document Format (PDF)
PDFs, developed by Adobe, have transformed how we share electronic documents. The format was created to maintain document integrity while allowing easy sharing. PDFs are based on an image model that differs from the typical PostScript language commonly used. It is to improve interaction and accessibility that PDFs are structured differently.
What makes an accessible PDF?

As the name suggests, an accessible PDF is a PDF anyone with any disability can easily read and navigate through. And it can mean different things for users with different disabilities.
For example, for those with visual impairments, an accessible PDF can mean any of these three.
It can mean:
They can easily zoom into the texts if need be
The content has high contrast, making it easy to read
They can easily read the PDF using the help of screen readers
In the case of users with physical disabilities, it means ensuring users can easily navigate through the entire document with the help of a keyboard. These readers find managing a mouse for navigation difficult, so being able to use a keyboard is a welcome move for them.
For users with hearing impairments, creating an accessible PDF will mean having captioned audio and video content.
In short, the main aim of creating web-compliant PDFs is to provide them with an alternative means of accessing content. Most PDFs have some of these options as default, like zooming and keyboard navigation.
However, it doesn't mean that these PDFs are necessarily accessible. They can, however, be made accessible just by implementing some additional steps.
Characteristics of Accessible PDF Files


Accessible PDFs are a must to ensure inclusivity. Most importantly, they feature searchable text, which, in the process, makes content available to screen readers.
Besides, unlike scanned images of text, accessible PDFs can be selected, copied, and edited. This can prove helpful to everyone requiring more clarity about the PDF. Optical Character Recognition (OCR) technology also plays a crucial role in making content searchable and thus accessible to all.
Navigating PDF Accessibility
Ensuring that your PDF documents are fully accessible can be a complex task, but it's an essential one. This is especially required with the World Wide Web Consortium (W3C) Web Content Accessibility Guidelines (WCAG) having set the standards for digital accessibility.
These guidelines encompass various aspects, including alternative text alternatives, navigation, and readability. Adhering to these guidelines is crucial to creating PDFs that are both legally compliant and user-friendly.
Besides, ensuring that your website and the content you provide, including PDFs, are accessible is not just a legal obligation; it's a moral imperative. By embracing accessibility, you not only comply with the law but also open doors for a more inclusive and diverse audience.
Accessible PDFs: A Key to Digital Inclusion
The importance of accessible PDFs cannot be overstated. They open up a world of information and opportunities for individuals with disabilities. Accessible PDFs offer text-to-speech capabilities, allowing screen readers to convey the content to visually impaired users.
Moreover, they allow users to navigate the document efficiently, providing screen reader users with a seamless reading experience.
When your documents are accessible, you broaden your reach and cater to a broader audience. This inclusivity can increase website traffic and customer engagement, benefiting your business or organization.
How to Remediate an Inaccessible PDF?

Making an inaccessible PDF accessible isn't about perfection; it's about improving and providing access for all. Whether you have the original source document or just a PDF, here is a rundown of the best ways to enhance existing PDF documents for accessibility with the help of the right tools and processes.
Contact ADA Siite Compliance today so we can make ALL your PDF documents fully accessible.
1. Determining the Accessibility Path for Each PDF Document

As PDFs can be generated in various ways, there is no cookie-cutter accessibility solution. Each document has and needs a unique solution.  The good news is there are some tools like Adobe Acrobat Pro with multiple accessibility features, making the remediation process more manageable.

2. Starting with an Accessible Document

The journey to accessible PDFs begins with the source document. Whenever possible, it is always better to start the remediation process with the document title in native file formats.

The reason is that any and all documents created in Word or desktop publishing software can be later easily exported as PDFs. This is a useful feature as it allows for adding additional text, headings, data table structures, other document structure tags, language definitions, and more.

3. Preventing Security Settings from Interfering with Screen Readers

Ensuring that screen readers can navigate your PDFs smoothly is an important step in remediating inaccessible PDFs in the form fields in the proper PDF format. It is always better to avoid copying, printing, extracting comments, or editing PDFs.

The reason is that these actions can hinder accessibility. There are tools that can help you ensure that access permissions do not interfere with screen reading.
How to Make a PDF Compliant with Accessibility?
Achieving document accessibility in your PDFs is essential. It ensures that users with difficulties can at least use the help of assistive technologies like screen readers to interpret your whole document structure's structure correctly.
Besides, as mentioned earlier, compliance with ADA standards helps make your digital landscape more inclusive to reach out to more of your target audience and, in the process, generate more web traffic.
How do you make accessible PDF documents?

There are a few optimal practices to adhere to within reading order to make a PDF accessible documents, and they are to:
Make things simple; in other words, use simple language in the PDF
Ensure you include as many relevant headings and subheadings as possible
Including meaningful alt-text for all the images and graphics you have in your PDF
Ensuring the text in the PDF is not only readable but has sufficient contrast with the background for better readability
Not depending much on colors to convey information as it can be intimidating to users with color blindness
Always make more use of accessible tables and lists in PDF documents
Adding bookmarks where possible
Using a catchy and interesting title, and of course, specifying the language used in the PDF
Correctly tagging the different elements
Setting titles and metadata as and where appropriate
Adding captions to videos and other non-text content accessible
It is undoubtedly time-consuming to create accessible PDFs. However, the end result of a compliant, accessible PDF file, which increases your reach and reduces the chances of facing a legal lawsuit, makes the item invested well worth it.
Besides, you can always use the help of PDF accessibility checkers for PDF document audits and verifications as per the latest accessibility standards. And if that's too cumbersome, you can always have the experts take care of your PDF compliance while you focus on what you do the best!
FAQ:
After being asked the same questions about PDF accessibility by most website owners and developers, we now make things easier for you by sharing our most frequently asked questions and answers.
1. How do I make a PDF compliant with accessibility?

There are multiple ways to make a PDF compliant with accessibility. The first is to do it yourself manually, and the second is to use PDF accessibility checkers. The third option is to hire web accessibility providers who include PDF compliance as one of their services.

Doing it on your own, of course, takes time, which is where accessibility checkers help make the process easier and quicker. For example, there are tools you can try, like Adobe Acrobat Pro and Adobe Reader.

All you have to do is choose the Action Wizard tool in them, then click on 'Make Accessible.' Then select the files you want to apply the Make Accessible action to. Once you click start, you must follow the prompts to complete the Make Accessible action.

2. How is a PDF ADA-compliant?

PDF can be easily structured to be ADA compliant by ensuring the PDF enables the use of a screen reader and other assistive technology to read and navigate the content. Some features of an ADA-compliant PDF include searchable text, images with alt text, tags, bookmarks and proper headings, color contrast, and structure.

3. How do I make a document ADA-compliant?

There are multiple steps that you can take to ensure a document is ADA-compliant. They include:

Adding alt text to visuals so that screen readers can read the text and describe the image to users with visual impairments
Following a structure that makes it easier for users to read and navigate the document, including headings, lists, and tables
Avoiding background images and watermarks, which users with visual impairments can find difficult to read
Creating accessible hyperlinks by using descriptive link text and ensuring the links point to a valid location
Making use of table headers wherein screen readers can understand the table structure.

4. How do I fix PDF accessibility issues?

There are some tools you can use to fix PDF accessibility issues. To do this, you must first open your file and install Adobe Acrobat Pro. Once this is done, you must select the tools tab and click Accessibility Check or start checking.

You will thus locate all sections with error icons, wherein you will have to work at expanding each section with an error icon. Right-clicking on the error and selecting fix fixes the issue. Of course, the Accessibility Checker isn't perfect, and there is always the risk of missing some ADA-compliance issues.

That's why it is better and safer to hire web accessibility services to ensure complete PDF compliance.
Web Accessibility Provider
Ensuring web compliance is a multifaceted endeavor. It may seem to take lots of time and be confusing to many. It's where web accessibility providers, like ADA Site Compliance, play a crucial role in ensuring your website and PDFs meet ADA standards.
We have a team of accessibility experts who can help make web compliance so much easier and less time-consuming for you. With our expertise, we can ensure your site and all your PDFs are easily accessible to all, including individuals with disabilities.
In conclusion, the world of PDF accessibility and web compliance is multifaceted, but it's a journey worth embarking on. By ensuring that your PDFs are accessible, you not only meet legal standards but also contribute to a more inclusive and diverse digital landscape. Together, we can make the Internet a place where everyone can access information and opportunities.
Contact ADA Site Compliance for all your website accessibility needs today!
Share via:
Have a question?
We're always here to help.
The ADA prohibits any private businesses that provide goods or services to the public, referred to as "public accommodations," from discriminating against those with disabilities. Federal courts have ruled that the ADA includes websites in the definition of public accommodation. As such, websites must offer auxiliary aids and services to low-vision, hearing-impaired, and physically disabled persons, in the same way a business facility must offer wheelchair ramps, braille signage, and sign language interpreters, among other forms of assistance.
All websites must be properly coded for use by electronic screen readers that read aloud to sight-impaired users the visual elements of a webpage. Additionally, all live and pre-recorded audio content must have synchronous captioning for hearing-impaired users.
Websites must accommodate hundreds of keyboard combinations, such as Ctrl + P to print, that people with disabilities depend on to navigate the Internet.
Litigation continues to increase substantially. All business and governmental entities are potential targets for lawsuits and demand letters. Recent actions by the Department of Justice targeting businesses with inaccessible websites will likely create a dramatic increase of litigation risk.
Big box retailer Target Corp. was ordered to pay $6 million – plus $3.7 million more in legal costs – to settle a landmark class action suit brought by the National Federation of the Blind. Other recent defendants in these cases have included McDonald's, Carnival Cruise Lines, Netflix, Harvard University, Foot Locker, and the National Basketball Association (NBA). Along with these large companies, thousands of small businesses have been subject to ADA website litigation.
Defendants in ADA lawsuits typically pay plaintiff's legal fees, their own legal fees for defending the litigation, and potential additional costs. In all, the average cost can range from tens of thousands of dollars, to above six figures. There are also high intangible costs, such as added stress, time and human capital, as well as reputational damage. Furthermore, if the remediation is incomplete, copycat suits and serial filers can follow, meaning double or triple the outlay. It's vital to implement a long-term strategy for ensuring your website is accessible and legally compliant.