With the WCAG 2.2 scheduled release fixed for December 2022, a quick reference guide can be handy for any website, application owner, or developer. The guide will provide them with an overview of the WCAG 2.2 success criteria.
It will, in turn, help improve and ensure their web content is accessible to people with disabilities. The guide also helps cover accessibility compliance with websites on laptops, tablets, desktops, and mobile devices.
WCAG 2.2 quick reference guide
WCAG 2.2 is not yet declared a full recommendation. It is still only a candidate recommendation. So while it is close to the final version, there may be additional changes in the content.
The final date for release and becoming a full recommendation depends on the W3C timeline, which should happen in December 2022.
The WCAG 2.2 is backward compatible with WCAG 2.1, built on 2.0. It will include new success criteria in addition to the existing ones. As WCAG 2.2 is backward compatible with WCAG 2.1, it is easier for organizations that have already implemented WCAG 2.1 success criteria.
And while WCAG 2.2 will not replace WCAG 2.1, it will be the industry-recommended set of guidelines to adopt. It thus gives even more reason for web developers and website owners to have a handy checklist around all the time.
How are the success criteria categorized for multiple web pages?

The success criteria comprise three conformance levels- Levels A, AA, and AAA. The impact of the page design and visual presentation complying with the needs of different people and situations decides the categories.
While websites have to meet conformance levels, higher-level success criteria conformance signifies lower-level conformance too.
Level A
Level A sets a minimal, low, and accessible level of accessibility.
Level AA
The content in all websites and applications must conform with Level AA success criteria.
Level AAA
Level AAA success criteria are the most challenging, and it is thus not easy, required, or recommended to strive for full compliance.
WCAG 2.2 is likely to have nine new additional success criteria. They include two at Level A, five at Level AA, and two at level AAA.
Who do the guidelines support?
The guidelines support all users to enhance stability and access to all users. In addition, the guidelines also support the following:
Users with vision impairments
The guidelines support low-vision users through extended graphic requirements and new policies. These guidelines indicate a need for better on-screen elements for optimal visual perception and keyboard user interface components.
Users with language, learning, or cognitive disabilities
The guidelines help these users by providing additional information about the specific input modalities. It also includes other requirements for optimal website navigation, like easily reusing information and logging into websites.
Organization of guidelines
WCAG organizes guidelines into these four categories:
Perceivable
It means there should not be any element or content on the site that deaf, colorblind, low vision, or blind users will not be able to consume. So the site should offer an alternative method for them to consume content, like through text alternatives for audio and video content.
Text content should have an audio description, alternative, or assistive technology like screen readers to consume the information. And in the case of pre-recorded video content or audio tracks, there should be some media alternatives like captions.
Operable
The website should be keyboard accessible for all users. For example, letting visitors easily complete tasks with the help of character key shortcuts. A compliant website should also forgive users who make input errors and make the necessary changes to the information.
Understandable
According to this category, users should easily understand a site's interactions and content. So users should be able to recognize objects like icons and links on web pages providing insight into the users' destination.
Robust
The website or application should be developed with the best practices in mind and support various devices and browsers. It should also avoid mishaps while the code used for development should be clean.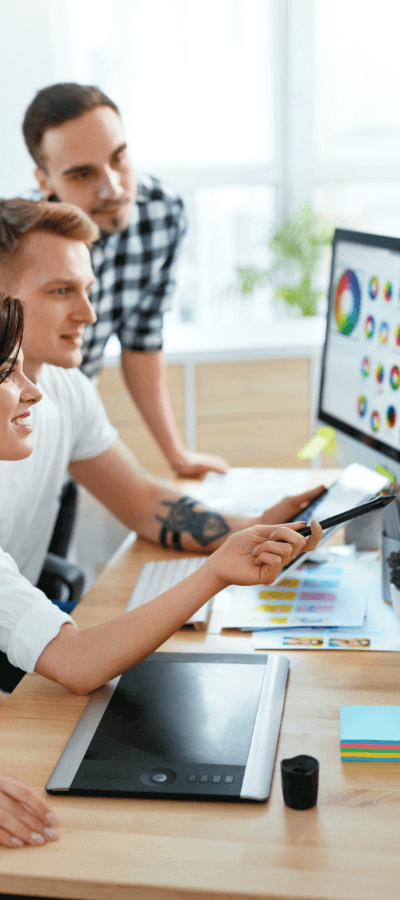 New additions to WCAG criteria
Here is a checklist of different WCAG guidelines based on the four categories:
New additions to perceivable criteria
1.2.6 SIGN language

Website owners and developers must translate all pre-recorded content with either audio or video-only audio tracks to sign language.

1.2.7 EXTENDED AUDIO DESCRIPTION

Users need an alternative if it is impossible to keep the audio track with the video's original audio. For example, letting the user pause the video, play the audio description, and resume the video.

1.3.1 INFO AND RELATIONSHIPS

The information architecture of the screen should flow in a logical sequence so that anyone seeing and hearing the content can easily understand it. The aim is to strive and provide an equivalent user experience in visual and auditory contexts.
New additions to operable criteria
2.4.11 Focus Appearance

This is a minimum-level AA criterion.

It sets requirements ensuring the current focus point remains clear to users with visual impairments who depend on keyboards for site navigation. So, for example, the keyboard focus indicator must have 1-pixel thick borders surrounding elements.

In addition, focus indicator pixels must have a 3:1 contrast ratio with adjacent colors.

Exceptions are cases where the user agent, like web browsers, determines the focus indicator. And if the browser generates the focus indicator and background wherein, the web page author has no control over it.

2.4.12 Focus Appearance

This is an enhanced level AAA criterion to assist users with low-vision problems who rely solely on keyboard-accessible website navigation by providing users with optimal visibility.

The focus indicator area requires a more significant border around an element. All color changes indicating focus must have a minimum 4.5:1 contrast ratio. And all visible focus indicators cannot be entirely hidden by other interface components.

So, having something like a fixed footer on a web page partially covering author-created elements is not advisable.

2.4.13 Fixed Reference Points

This is a level A criterion helping disabled users use page locators in printed and digital publications to find references to content. This way, all users stay in tandem even if there are formatting or platform changes.

2.5.7 Dragging

This level AA criterion helps users with limited motor abilities who struggle with path-based gestures like sliders and drag-and-drop interfaces. It requires that web pages with sensory characteristics and motion animation provide a single pointer mode of operation.

Examples are web pages that provide users with drop-downs for selecting the maximum and minimum processes. However, the success criterion does not apply to dragging movements that are a part of user agents like assistive technologies and browsers.

2.5.8 Pointer Target Spacing

This level AA criterion helps users with trembling hands find it difficult to perform fine motor movements like clicking on elements like buttons without unintentionally activating controls.

It includes providing sufficient space between targets to help reduce accidentally activating wrong controls. It also requires pointer inputs to have a minimum target size of 24 by 24 CSS pixels.

Exceptions occur when a target, like a direct link, is in blocks of texts, sentences, or paragraphs. Another exception is when adjacent targets have a space of at least 24 CSS pixels.
New additions to understandable criteria
3.2.6 Findable Help

This level A criterion requires ensuring users can easily find help to complete website tasks by providing users with easy access to human contact details. Examples are phone numbers, email addresses, client chat, or direct links on multiple web pages.

3.2.7 Hidden Controls

This level AA criterion helps users with cognitive impairments quickly find controls to complete tasks efficiently. It displays controls at all times instead of making users hover over a particular icon or button or move the mouse to perform tasks.

3.2.7 Accessible Authentication

This level A criterion provides users with cognitive issues an easy and safe means of logging in and accessing content. It includes providing an authentication process without any cognitive function test like passwords and user names in password managers.

Field inputs in forms to submit information should also be clear and without any unusual words, letting users quickly identify and fill them up.

3.3.8 Redundant Entry

Users with cognitive issues like short-term memory or memory loss must be able to recall information while performing various tasks efficiently. Examples are while form submission, allowing users to select previously filled details or easily select details through a drop-down.

There are exceptions to this guideline like in cases where:

Auto-populating information affects form security,
The user had previously entered invalid information
Entering the information is part of the activity, like memory games.
New additions to robust criteria
4.1.2 NAME, ROLE, VALUE

While all assistive technologies use name, function, and value properties to identify HTML standardized elements, customized components should also appropriately bring these markings.

4.1.3 STATUS MESSAGES

The transmission of all messages resulting from an action or informing a person's progress must be without any change in screen focus, context, or user input modalities.
FAQ
Here are some commonly asked questions and answers related to WCAG 2.2 guidelines.
1. What are WCAG 2.2 guidelines?

Web Content Accessibility Guidelines (WCAG) 2.2 is a document explaining how to increase web accessibility to people with disabilities. It ensures website and app accessibility to users with a broad array of disabilities like motor, hearing, vision, or cognitive learning disabilities.

2. Is WCAG 2.2 available?

No, it is still under review and editions. While the latest candidate recommendation snapshots were released in September 2022, there may be changes in the newly proposed requirements.

However, the latest editor's draft and supporting documents should be ready and published for the public in December 2022.

3. Is WCAG 2.2 Final?

No, WCAG 2.2 is not final. Three team members are now part of W3C's Accessibility Guidelines Working Group, working on defining WCAG 2.2 standards.

4. What is the WCAG checklist?

A WCAG checklist proves helpful in understanding your web accessibility progress. You can record how far you have reached website accessibility and set your future targets accordingly.
Conclusion
This checklist will prove helpful while working through the guidelines. It helps you check and maintain a record of your web accessibility progress to plan your future steps.
Ensuring your website or application is accessible to everyone takes time and is a continual process. We at ADA Site Compliance can help quicken the process by taking care of and ensuring your app or web accessibility compliance.
Share via:
Have a question?
We're always here to help.
The ADA prohibits any private businesses that provide goods or services to the public, referred to as "public accommodations," from discriminating against those with disabilities. Federal courts have ruled that the ADA includes websites in the definition of public accommodation. As such, websites must offer auxiliary aids and services to low-vision, hearing-impaired, and physically disabled persons, in the same way a business facility must offer wheelchair ramps, braille signage, and sign language interpreters, among other forms of assistance.
All websites must be properly coded for use by electronic screen readers that read aloud to sight-impaired users the visual elements of a webpage. Additionally, all live and pre-recorded audio content must have synchronous captioning for hearing-impaired users.
Websites must accommodate hundreds of keyboard combinations, such as Ctrl + P to print, that people with disabilities depend on to navigate the Internet.
Litigation continues to increase substantially. All business and governmental entities are potential targets for lawsuits and demand letters. Recent actions by the Department of Justice targeting businesses with inaccessible websites will likely create a dramatic increase of litigation risk.
Big box retailer Target Corp. was ordered to pay $6 million – plus $3.7 million more in legal costs – to settle a landmark class action suit brought by the National Federation of the Blind. Other recent defendants in these cases have included McDonald's, Carnival Cruise Lines, Netflix, Harvard University, Foot Locker, and the National Basketball Association (NBA). Along with these large companies, thousands of small businesses have been subject to ADA website litigation.
Defendants in ADA lawsuits typically pay plaintiff's legal fees, their own legal fees for defending the litigation, and potential additional costs. In all, the average cost can range from tens of thousands of dollars, to above six figures. There are also high intangible costs, such as added stress, time and human capital, as well as reputational damage. Furthermore, if the remediation is incomplete, copycat suits and serial filers can follow, meaning double or triple the outlay. It's vital to implement a long-term strategy for ensuring your website is accessible and legally compliant.