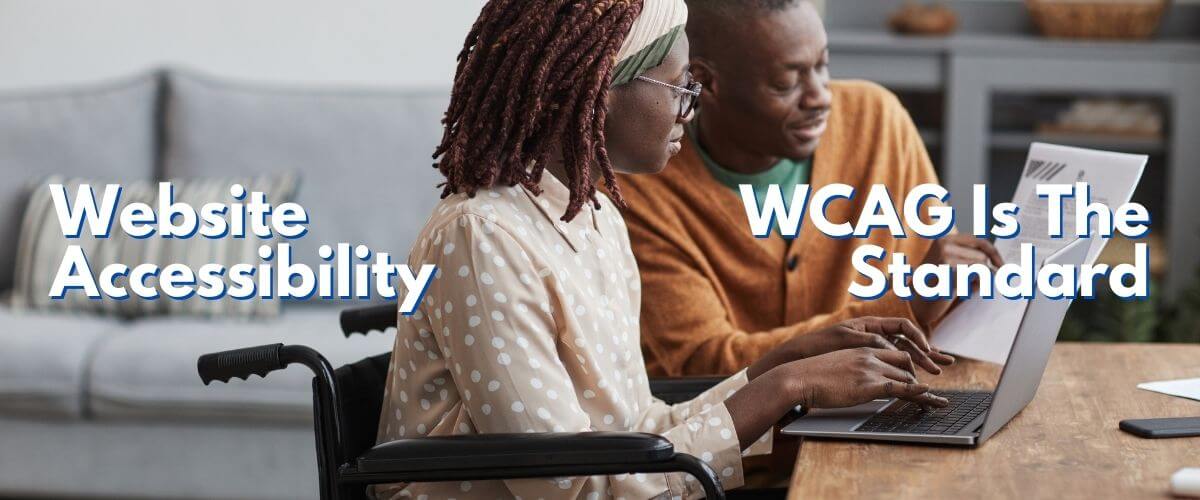 Website Accessibility is Included in ADA, and the WCAG is the Recognized Industry Standard
Share via:
The first impression is always the best; in more cases than not, your website creates the first impression on your potential customers in the digital world. And with constant technological developments like mobile accessibility, an increasing number of people spend time online daily.
So not having an online presence can affect your business success. However, it's not enough to only spend time and money creating an attractive and functional website. You also need to ensure you don't overlook the website compliance standards websites have to comply with.
Web compliance is necessary to ensure everyone can access your website. Failure to do so can lead to businesses facing legal action, reduced SEO, reduced online visibility, and reduced potential customers.
While a lack of accessibility law knowledge can be to blame when it comes to ADA compliance, there is a solution to ensure your website is ADA-compliant. You can have an accessibility expert like ADA Site Compliance, your #1 source for ADA website accessibility compliance assistance today, ensure WCAG conformance.
Website Accessibility Standards
The World Wide Web Consortium (W3C) took the web accessibility initiative by founding the WCAG Guidelines, common website accessibility standards for internet users. There are three versions of the WCAG Guidelines, each updated with more advanced requirements against accessibility barriers as per the evolvement of technology.
The original WCAG 1.0 was published in May 1999 and is the first fundamental step towards digital inclusivity. The WCAG 2.0, however, was the version that defined the guiding principles of WCAG followed till today. It was released in December 2008 and caters to newer technologies like mobile phone apps and mobile-version websites.
The WCAG 2.1 came into effect in June 2018 with an overhaul of existing standards, like creating a new benchmark for accessibility on mobile browsers. The next version, WCAG 2.2, is expected to be published in December 2022 with nine additional success criteria.
The rapid pace of technology has also pushed WCAG into making a massive upgrade, the WCAG 3.0, to be released in the near future. This version will not be backward compatible with WCAG 2.2 but will take a more well-developed approach to test digital accessibility and inclusion.
Overview of website accessibility laws and regulations

The WCAG offers extensive guidelines for developing an accessible website. The goal is to provide accessibility to everyone, no matter if they have an accessibility issue or not. These guidelines apply to web pages and applications like dynamic content multimedia, mobile, etc.
The WCAG bases its success criteria on four basic principles, which require websites to be:
Perceivable

Websites should present information and other user interface components so that users can easily perceive them.

Operable

All user interface components and navigation on web pages must be operable.

Understandable

According to this standard, all the user interface information and operation must be understandable.

Robust

Web content must be robust enough for various user agents to interpret, including assistive technologies.
WCAG compliance with Levels A, AA, and AAA

WCAG levels are divided into Levels A to AAA, where A conforms to the minimal level of conformance, Level AA is midrange and widely acceptable legally, and Level AAA is the highest and most optimal accessibility level.
However, while WCAG AAA compliance should be what every website owner strives to achieve, it's impossible for every website. The W3C admits this level of accessibility isn't required in general policies as all content can't satisfy the requirements.
According to the W3C, it's enough for websites to aim for WCAG level 2.0 levels of AA conformity.
Here is a brief overview of the different levels that build on each other.
Level A

This is the most basic level easily achievable and minimally impacting a website's structure or design. Websites that do not conform to it may have accessibility issues that need addressing.

For example, websites with pre-recorded audio-only and video-only content should offer alternative or time-based media. Captions should be provided for pre-recorded audio content, and pre-recorded video content should have alternative audio descriptions.

Level AA

This is the most desirable level of accessibility and is commonly referred to in court legal proceedings. It's an excellent standard to adapt for online accessibility, where legally accessible websites typically achieve these standards.

For example, live audio content should have synchronized captions, and pre-recorded videos should have audio descriptions.

Level AAA

This is the most comprehensive and ultimate standard for digital accessibility. However, it shouldn't be the required level as some content cannot satisfy its requirements.

For example, all pre-recorded audio content should have sign language interpretation, and live audio should provide an alternative media conveying equivalent information. Pre-recorded videos with insufficient pauses in the original audio for audio descriptions should provide alternative audio descriptions in context. Time-based media will be required in the case of video-only content.

Complying with WCAG 2.1 guidelines is as important as it makes a massive difference to your visitors' experiences. Your website can prevent avoidable issues, and by accommodating these needs, you ensure your visitors have the best onsite experience.
Web Content Accessibility Guidelines and the ADA
The Department of Justice, lawyers, and webmasters have started using WCAG standards as the main point of reference for digital accessibility standards. It's essential in determining compliance with the Americans with Disabilities Act (ADA) and Rehabilitation Act, which is why the website has to do its part in making the internet more accessible.
For example, federal agencies like the Justice Department and the U.S. Attorney's Office for the Middle District of Pennsylvania now have an accessible Rite Aid website. The website helps people with disabilities get information and book COVID-19 vaccination appointments online.
Their website was previously inaccessible to some users with disabilities. Examples are users dependent on assistive technology like screen readers and users who find navigating the website with a mouse difficult.
The site's schedule calendar didn't show screen readers the available appointment slots.

And users who used the tab key for navigation couldn't choose consent forms they had to fill out before scheduling an appointment. This move for an ADA-compliant website was made because equal access to healthcare is an important right guaranteed by the Americans with Disabilities Act. With the nation responding to the COVID-19 pandemic through booster shots, vaccinations for children under 12, and continual research for those seeking their initial dose, even people with disabilities needed to be able to schedule lifesaving vaccine appointments as conveniently as people without disabilities could.
Thus, Rite Aid's web content conforms to the Web Content Accessibility Guidelines. This includes:
Having ADA-compliant online forms
Regularly testing their web pages and quickly fixing any possible accessibility barriers.
In addition to conforming with web accessibility standards, the Title III of the ADA requires that public accommodations like grocery stores, commercial establishments, hotels, and drugstores provide people with disabilities equal and full enjoyment of goods, services, and vaccines.
The ADA also requires that public accommodations effectively communicate with people with disabilities using auxiliary aids like accessible technology.
Why is WCAG the gold standard in web accessibility compliance?
WCAG is the gold standard for ADA compliance as it provides in-depth, dynamic, and comprehensive guidelines that any website and government can follow, adhere to, and implement. So web designers or owners can build an accessible website based on the guidelines.
Besides, the WCAG standards have been officially documented and have some unofficial translations in Chinese, Arabic, German, Spanish, and French. This is why and how the WCAG is the most common standard accepted by international users and accessibility advocates.
And these standards are not only applicable to websites. The latest versions have been revised to conform to modern technology, like smartphones and mobile apps. Accordingly, the new and included comprehensive and robust requirements are easy enough for testers, designers, developers, and end-users to follow.
Why can an inaccessible website get you into legal trouble?

Inaccessible websites are a legal risk to both large and small company websites. Irritated disabled users who cannot access the site or any other web content may file lawsuits against the companies.
According to plaintiff attorneys, WCAG violations are the primary evidence for website inaccessibility. In most cases, business owners aren't aware of the problems or risks at hand, which leads to their facing compliance lawsuits.
And this has led to an increase in website accessibility-related lawsuits in recent years and is expected to increase in the foreseeable future. These lawsuits don't include the number of demand letters that are sent and resolved without having to take legal action.
FAQ
Here are some of the most common questions asked about ADA website compliance.
1. What are WCAG and ADA?

They are both standards that cater to digital inclusivity for differently abled people. But WCAG and ADA are different in characteristics where WCAG is a compilation of website accessibility guidelines, and ADA is a related civil rights law.

2. What are ADA accessibility requirements for websites?

ADA accessibility requirements for websites are guidelines that ensure your website is accessible to disabled users. Website owners and developers must follow these requirements and regularly scan them for web compliance while creating their websites.

3. Is WCAG required for ADA?

While the ADA is the most-cited law regarding web accessibility compliance, it came into effect in 1990. There were no laws or specific information, or standards for websites to follow for ADA compliance. This led to much confusion about whether websites must comply with the ADA, leading to the birth and requirement of the WCAG for ADA.

4. What are WCAG 2.0 accessibility standards?

WCAG 2.0 accessibility standards cover various recommendations for making web content more accessible. Conformance with these guidelines makes content accessible to a broader range of users with disabilities like:

Blindness and low vision
Hearing loss or deafness
Learning and speech disabilities
Cognitive or motor limitations
Photosensitivity

5. What organizations must comply with the ADA?

Businesses and organizations of all sizes and types must comply with ADA legislation to ensure equal access to their customers and employees. ADA compliance standards apply to state and local government offices, agencies, non-profits, and businesses.
Best practices to adopt for digital accessibility
With accessibility being an essential human right to life, and more than 1.3 billion of the population disabled, providing an equally accessible online experience to everyone is legal and morally required.
You end up losing the business of nearly half of disabled users who leave inaccessible websites and risk facing lawsuits and paying exorbitant taxes.
The best way to ensure your website is ADA-compliant lies in building one based on WCAG guidelines in the first place. And if you have an existing website, a website audit will help you determine if your website and all digital platforms are compliant.
It's not enough to build a WCAG-compliant website. You must also scan your website and make relevant changes periodically, whenever necessary, based on electronic and information technology developments.
This can be a daunting task for business and website owners. This is where we can help ensure website compliance while you focus on other, more important things. Contact us at ADA Site Compliance as your #1 source for ADA website accessibility compliance assistance today.
Share via:
Have a question?
We're always here to help.
The ADA prohibits any private businesses that provide goods or services to the public, referred to as "public accommodations," from discriminating against those with disabilities. Federal courts have ruled that the ADA includes websites in the definition of public accommodation. As such, websites must offer auxiliary aids and services to low-vision, hearing-impaired, and physically disabled persons, in the same way a business facility must offer wheelchair ramps, braille signage, and sign language interpreters, among other forms of assistance.
All websites must be properly coded for use by electronic screen readers that read aloud to sight-impaired users the visual elements of a webpage. Additionally, all live and pre-recorded audio content must have synchronous captioning for hearing-impaired users.
Websites must accommodate hundreds of keyboard combinations, such as Ctrl + P to print, that people with disabilities depend on to navigate the Internet.
Litigation continues to increase substantially. All business and governmental entities are potential targets for lawsuits and demand letters. Recent actions by the Department of Justice targeting businesses with inaccessible websites will likely create a dramatic increase of litigation risk.
Big box retailer Target Corp. was ordered to pay $6 million – plus $3.7 million more in legal costs – to settle a landmark class action suit brought by the National Federation of the Blind. Other recent defendants in these cases have included McDonald's, Carnival Cruise Lines, Netflix, Harvard University, Foot Locker, and the National Basketball Association (NBA). Along with these large companies, thousands of small businesses have been subject to ADA website litigation.
Defendants in ADA lawsuits typically pay plaintiff's legal fees, their own legal fees for defending the litigation, and potential additional costs. In all, the average cost can range from tens of thousands of dollars, to above six figures. There are also high intangible costs, such as added stress, time and human capital, as well as reputational damage. Furthermore, if the remediation is incomplete, copycat suits and serial filers can follow, meaning double or triple the outlay. It's vital to implement a long-term strategy for ensuring your website is accessible and legally compliant.