According to the World Health Organization, about 285 million people suffer from visual impairments worldwide, where 39 million are legally blind, and 246 million have low vision. They struggle with visual disabilities like poor acuity, tunnel vision, central field loss, and clouded vision. While the visually impaired users' statistical proportion is small compared to other users who do not have any problems, it's unfair to them if your website design has ADA compliance issues.
You, in the process, foreclose on doing business with this niche market and risk exposing yourself to potential legal problems. This article discloses the importance of having accessible design websites, why websites need to follow WCAG, and a few tips your web designer should use to improve usability for those with visual impairment.
What exactly is WCAG?
The ADA doesn't have any set ADA regulations. However, most organizations follow the Web Content Accessibility Guidelines, which isn't a legal requirement but is more like a reference point for organizations for digital accessibility.
There are three versions of WCAG- 1.0, 2.0, and 2.1 with three levels of conformance-
A for bare minimum accessibility
AA accessibility meeting legal requirements
AAA that exceeds accessibility requirements
WCAG guidelines ensure your web page content is:
Perceivable through text alternatives like assistive technologies that let the sight-impaired perceive your website content
Operable with easy navigation through keyboard accessibility so that people with disabilities can easily navigate your website to access the content.
Understandable with readable and predicable content, with electronic and information technology input assistance where required
Robust and easily interpreted by multiple devices and platforms compatible with users' agents like assistive technologies.
Creating content suitable for individuals with hearing or vision impairment, cognitive, motor disabilities, learning, language, or hearing disabilities access increases upon conforming with these standards.
The importance of an ADA-compliant website for the visually impaired
Here are a few compelling reasons to make your entire site accessible to the visually impaired:
A legal requirement

While there are no rules, the Americans with Disabilities Act requires that your website be accessible to the disabled. According to the Act, commercial websites must conform to specific web content accessibility guidelines.

To avoid potential litigations

You risk getting smacked with a lawsuit for having an inaccessible website. With major corporations like Amazon and Nike facing accessibility lawsuits, it's no surprise if most companies get hit too.

And if sued, you end up having to spend significantly fighting or settling your case.

For an extended customer reach

With ADA compliance letting millions of people view your site, it makes good business sense to make it accessible. You experience increased web traffic, have more visitors, and potentially increase online purchases.

To avoid losing business from government organizations

There's the risk of losing new business from conscious procurement departments and federal government entities if you don't have an accessible website. You also lose federal funding, contracts, and assistance from federal websites.

To avoid last-minute scrambling to fix your website

If sued for website compliance, courts generally force you to fix ADA compliance issues within a specific date. This often leads to a mad rush to get things done, negatively impacting your priorities and focus.

It's better to be prepared and fix compliance issues by having an ADA-compliant website instead of being forced into fixing compliance issues at the last minute.

To avoid losing customers

With so many people having visual impairment worldwide, you suffer a potential loss of revenue by not doing business with them if your web design isn't compliant for some reason.

Tax breaks you can claim

Did you know that small businesses can claim a federal tax credit for the expenses incurred to create accessible web experiences for people with disabilities?

You can claim the credit every year if your business earns $1 million or less and has fewer than 30 full-time employees. However, discussing these things with your tax advisor for better advice and clarity is always better before making claims for your online business.
Which businesses have to comply with the ADA?
Business websites have to adhere to accessibility compliance. It applies to any company with a minimum of 15 full-time employees operating for 20 or more weeks a year. According to ADA Title III, even companies providing 'public accommodation in a physical location like hotels, public transportation, and banks must comply.
11 website compliance tips for visually impaired users
These eleven tips help ensure your website's accessibility for visually impaired users:
1. Sufficient color and texture contrast

WCAG 2.0 level AA requires that your website have a contrast ratio of 4.5:1 for standard text, 3:1 for large text, and good color contrast between text and background for readability. Using textures, patterns, and graphs in visual elements offers an additional scannability layer to differentiate between data points.

2. Restricted use of colors

Too many colors in a design interface make it difficult for people with color blindness and even non-vision impaired user to identify direct actions and links. You can use multiple tools to create the perfect color contrast between text and background. This makes it easy for the color-blind and visually impaired to read the text and see color differences.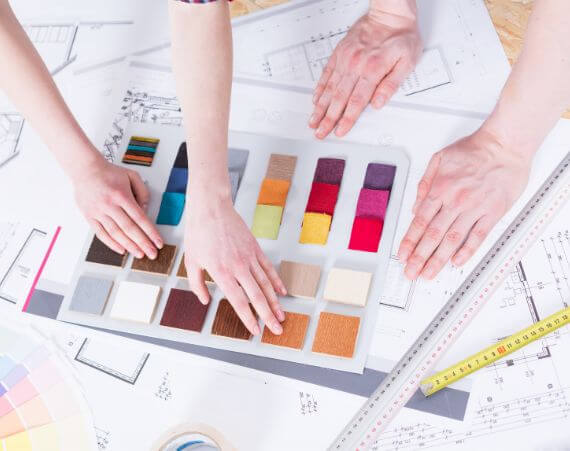 3. An ability to manually adjust the font size

Various options like magnifying software today provide for better site accessibility to the visually impaired by letting them manually adjust the text size in browser settings. However, those with low vision and older people with age-related vision loss do not use magnifying software and may now know about browser text size adjustment options.

A clear option like a slider, button, drop-down, or anything for altering the font size and manual testing helps make websites friendlier to the visually impaired.

4. Not relying on only colors to communicate significant information

So highlight alerts, warnings, error messages, and actionable page elements like textual links and buttons using more than different colors. For example, most know that an underlined blue text is a link. however, some sites use blue text for emphasizing but do not link out to anything.

So it helps if you use icons, patterns, fill, whitespace, or borders to accompany alerts and actionable page elements. This way, even colorblind users and the impaired will easily recognize primary action cues.
5. Provide keyboard accessibility

A mouse does not help the visually impaired with navigation, as it requires considerable hand-eye coordination. This is where keyboard shortcuts help make things easier for blind users and those who use screen readers to navigate the site without excessive focus or having to follow the mouse cursor across the screen.

6. Device versatility

Your website should be compatible with anyone to access using any device. So when you design your website, you need to create it while assuming the screen is any size or nonexistent.

7. Providing suggestions and alternatives when users encounter errors

There is always the chance of visually impaired users encountering input errors because of differently navigating your website. As this is the case, you should provide them with recommendations for better website content navigation if this happens.

8. Videos with audio descriptions

Videos should have audio files comprising a speech version of descriptive transcripts. This makes it easier for blind people and those with visual impairments to consume content.

9. Use of proper fonts

It is always better to restrict the number of fonts you use to only one font for body text and one for headlines. Always use sans serif fonts as they are easiest to read and at least a size 12 font.

And if you need to emphasize some standard text, do it with the use of bold instead of italics.
10. Using accessible CTA buttons

As CTAs are essential for marketing success, they should be easily accessible on your website. This means that the text on the button itself should be something anyone can easily read and interpret.

This is why it is always better to use aria labels for buttons, as it provides accurate information and clarity to the visually impaired. It is also always worth manually testing your button accessibility with your website development team to ensure they are fully accessible.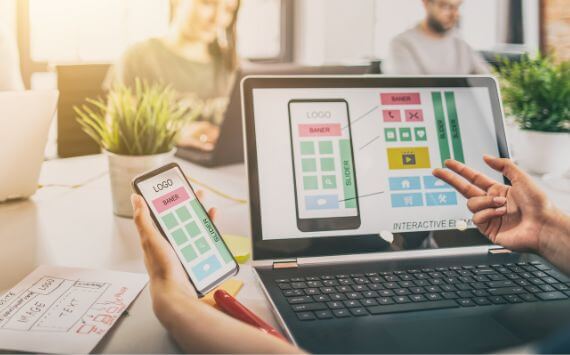 11. Descriptive links and buttons for improved screen readers' scanability

Link labels like 'click here' are a no-no for websites as they have no surrounding text and create a contextless state. Instead, it is better to use descriptive and explicit link labels that provide a better sense of out-of-context benefits for all users.

Besides, descriptive link text improves scanability for users with screen readers or visual impairments and increases the site's search engine optimization.

Regarding screen-reader accessibility, the blind use it and a browser to surf the web. Screen readers scan and translate web pages into plain text and read each line and element aloud one at a time while progressing down the page linearly.

However, the linear progression can be challenging for blind users to consume, comprehend and scan content. The following tips for designing your website for screen reader compatibility increase your website accessibility.

Using alt-text descriptions for non-text content

Screen readers first read images or graphics, say 'image' or 'graphic,' and then read alternative text descriptions. As it tends to skip and miss images that do not have alt text, you must provide alt text for images and graphics.

As screen readers read the text linearly, keep audio and video descriptions concise and to the point. Doing this helps get your point across to the visitor using minimal words.

Properly organize page content using headings

Screen readers skim pages by jumping from one heading to another to provide the user with an overview of the page's primary information. They can thus backtrack later and read the most exciting parts as required.

So a lack of headings makes skimming through content virtually impossible. Organizing your content with titles provides an accurate overview of the page content. However, use the proper heading tags like the H2 function instead of just a more prominent or bolder font. Headings should also follow a logical hierarchy with the title or H1 followed by H2 and H3 headings.

Use descriptive titles for all pages

Along with headlines outlining content on web pages, websites should have titles aptly describing the page's topic or purpose. When loading web pages, screen readers announce the 'title' element in the HTML code. Screen reader users save time otherwise spent scanning pages to determine their content this way.

Website accessibility don'ts worth knowing

The following pitfalls in the design can, at times, lead to the final website design unknowingly excluding visually impaired users:

1. Using older, dynamic content

Older and inaccessible dynamic content like Flash can hinder assistive technology users.

2. Forgetting to add text descriptions

Do not forget to insert text descriptions for images, links, and other graphic elements.

3. Absence of non-visual orientation cues

Progress bars or navigation tools for progressing through a user's journey should be visible and contextually understandable for screen reader users.

4. Inconsistency in navigation

Maintaining consistency in your website provides for easy navigation. Any inconsistency can confuse screen readers and make them think they are making mistakes.

5. The absence of a full keyboard or switch use

Some assistive technology users can or prefer using a keyboard only or switch devices where the user only has a binary switch. Not accounting for these users can make your website inaccessible to them.

Liability for non-compliance with web content accessibility guidelines

Not complying with the ADA can lead to many problems:

Leaving your business susceptible to lawsuits you are forced to comply with can also get expensive.
The costs of website compliance and attorneys' fees can run to tens of thousands of dollars, depending on the state.
The risk of losing out on business and missing sales opportunities as users cannot navigate your website or find it challenging to complete online forms.
A reduced search engine ranking as ADA compliance makes it easier for search engines to crawl and index your website for improved online visibility.

Frequently Asked Questions

These are a few questions frequently asked about ADA website compliance for the visually impaired:

1. Is ADA compliance mandatory for websites?

It is not mandatory because it's unclear how or if ADA rules apply to any website. However, WCAG forms the backbone of most worldwide online accessibility laws, and WCAG 2.0 Level AA guidelines are a robust model to follow to provide equal access to everyone.

But, as many states have their accessibility laws, it is always better to be careful in ensuring website compliance. And as there are no clearly defined regulations to follow, it's not worth taking the risk with compliance issues just because you assume that a court will rule in your favor.

2. What is an ADA-compliant website?

An ADA-compliant website is a website that meets the WCAG 2 web accessibility standards. Though there are multiple levels of compliance- A, AA, and AAA, your site needn't comply with all levels but should comply with at least one level.

Compliance should include the following:

Having content suitable for screen readers
Having hyperlinks that stand out for the colorblind to distinguish easily
Incorporating appropriate text with links for the visually impaired users to know where the links go
Ensuring all website tasks are doable with keyboard-only commands and do not require a mouse
Including alt text into code for all site images

3. Are websites covered by the ADA?

No, as there is no specific coverage under the ADA law, the court usually determines if ADA standards apply to the website.
Share via:
Have a question?
We're always here to help.
The ADA prohibits any private businesses that provide goods or services to the public, referred to as "public accommodations," from discriminating against those with disabilities. Federal courts have ruled that the ADA includes websites in the definition of public accommodation. As such, websites must offer auxiliary aids and services to low-vision, hearing-impaired, and physically disabled persons, in the same way a business facility must offer wheelchair ramps, braille signage, and sign language interpreters, among other forms of assistance.
All websites must be properly coded for use by electronic screen readers that read aloud to sight-impaired users the visual elements of a webpage. Additionally, all live and pre-recorded audio content must have synchronous captioning for hearing-impaired users.
Websites must accommodate hundreds of keyboard combinations, such as Ctrl + P to print, that people with disabilities depend on to navigate the Internet.
Litigation continues to increase substantially. All business and governmental entities are potential targets for lawsuits and demand letters. Recent actions by the Department of Justice targeting businesses with inaccessible websites will likely create a dramatic increase of litigation risk.
Big box retailer Target Corp. was ordered to pay $6 million – plus $3.7 million more in legal costs – to settle a landmark class action suit brought by the National Federation of the Blind. Other recent defendants in these cases have included McDonald's, Carnival Cruise Lines, Netflix, Harvard University, Foot Locker, and the National Basketball Association (NBA). Along with these large companies, thousands of small businesses have been subject to ADA website litigation.
Defendants in ADA lawsuits typically pay plaintiff's legal fees, their own legal fees for defending the litigation, and potential additional costs. In all, the average cost can range from tens of thousands of dollars, to above six figures. There are also high intangible costs, such as added stress, time and human capital, as well as reputational damage. Furthermore, if the remediation is incomplete, copycat suits and serial filers can follow, meaning double or triple the outlay. It's vital to implement a long-term strategy for ensuring your website is accessible and legally compliant.