Web accessibility is fundamental for website owners, developers, business people, and managers. There is always a chance of their ending up with an ADA website lawsuit for accessibility issues.
Unfortunately, there has been an increase in ADA accessibility lawsuits over recent years. And as every website owner is at risk of facing one, you should know how to avoid web accessibility cases in the first place.
And if you unknowingly face a lawsuit, you should know what to do to make your website fully ADA-compliant. This article explains more about web accessibility and what you should do if you do face an ADA website lawsuit.
What is an ADA website lawsuit?

An ADA website lawsuit is made against you because your website is not accessible. And the reason for this is that websites are now more like public accommodations that should be easily accessible to everyone without any discrimination.
Many people wonder why there is so much hype over non-compliance issues, especially when the internet and websites have been around for so long. Well, it's because there were not many sites doing business on the internet in 1989 upon the passing of the ADA.
Besides, no one knew how much the internet would affect our everyday lives today. Today everyone uses the internet for everything, like shopping, finding jobs, and booking tickets.
With these changes and necessities, the average adult uses the internet for about six hours every day, looking for information and doing some form of online work. This includes disabled people who may use the information for the reasons mentioned above.
So take the example of visually impaired users who want to find something or some information online. They generally use the help of assistive technologies like screen readers to access online information.
If they land on your website and cannot access it, they lose the privilege of visiting and using it. Besides, this cannot be very pleasant to disabled users as they cannot access your site to gain information or do business with you.
For reasons like this, the disabled may file a case against you for an inaccessible website. This claim that they make is called an ADA website lawsuit.
What is the American Disabilities Act or ADA compliance?
ADA is the Americans with Disabilities Act acronym and is a federal law protecting people with disabilities. It states that your website should comply with the ADA and provide equal access to everyone to your web content.
With over a billion people suffering from some disability, this is a critical act ensuring equal web accessibility to everyone.
How to avoid web accessibility lawsuits

The best way to avoid ADA accessibility cases is by testing to ensure your entire site complies with ADA. This is where these tips prove helpful:
Audit your website accessibility

Getting a complete website audit helps prevent an ADA lawsuit. The audit reveals any website accessibility issues, possibly through automatic or manual testing. Automated testing involves using selective tools and automation to test your website against stipulated web content accessibility guidelines.

Manual testing gives better results than automated testing because a person performs the audit manually. While this may take a little longer, manual audits reveal critical issues like PDF files that assistive technology devices cannot read.

It will also uncover the other problems with your website, like the absence of alt-tags on your website images. In addition to showing these issues, the audit accessibility statement will also show the remedial procedures you must adopt to get your website back on track.

Use ADA-dedicated plugins and experts

You can install multiple dedicated plugins for your accessibility testing and training process. You have to select and install to use the plugin per your requirements.

For example, if your website is on the WordPress platform, the plugin for the WordPress website will be a blessing in disguise for your site. Its' proactive approach includes scanning your site and scheduling periodical scans.

Similarly, if you have a Shopify store or any ADA, accessibility testing by experts will help you avoid accessibility litigation and other consequences. And if your website is built on Squarespace, hiring a relevant expert will ensure you don't end up with website accessibility lawsuits.

And as mobile apps are not the same as WordPress sites, hiring ADA website compliance experts who know ADA and mobile accessibility issues is a better way to avoid a lawsuit.

Learn about accessibility requirements

As web content accessibility guidelines dictate if everyone can access your website, it is worth knowing and understanding at least a few of these guidelines. Reading and understanding as many of these guidelines as possible make it easier for you to understand website accessibility issues.

Remediate issues and keep up with changes

Make the necessary accessibility remediations to your website as per the audit results to keep your website updated. However, it is not enough to make the changes because website accessibility laws and guidelines keep changing.
So it would help if you keep checking your website to ensure your site and any changes made to it comply with ADA requirements.
5 Ways to Reduce Your Risk of a Web Accessibility Lawsuit


It is easy to understand possible discrimination against users with physical disabilities in brick-and-mortar government agencies and stores, like the absence of ramps for wheelchairs.
However, it is not so easy to detect issues on your website.
Your company website may be violating ADA Title III without your knowing it. And if this happens, a blind plaintiff can legally file a claim for being denied equal access rights.
So to prevent this from happening, here are some of the best ways to make your website accessible and avoid any possible title III-related litigations.
Know the requirements to conform with WCAG 2.1 AA standards

As your site is a digital place of public accommodation, you must protect it against any possible digital accessibility litigation. And to do this, you must ensure it prohibits discrimination of any form and conforms to WCAG 2.1 AA.

The best place to start is by checking the latest version of WCAG standards and the DOJ website for the latest updates to title III of the disabilities act. And mainly focus on ensuring that people with disabilities who visit your website can conveniently navigate the internet.

Have a professional audit done

If you are unsure of your WCAG conformance, start by evaluating your present state of accessibility. You can have your website scanned for accessibility errors by engaging an ADA website Compliance expert to conduct a professional and comprehensive website audit.

This way, you will learn about the key findings from an automated scan and the results of a manual examination. This testing helps identify accessibility problems automation won't find on its own and thus protect your company from ADA lawsuits.

Address the most critical barriers first

While rectifying any detected issues, focus on fixing the most critical errors detected on your high-visibility pages like your home and other primary pages.

Create a roadmap for ongoing monitoring

ADA compliance is not a one-time task; you must keep monitoring, testing, and remediating your website. It is because web content is so dynamic that while your web pages may today conform with WCAG criteria, any added content may end up as additional barriers.

You need to hire the right web accessibility experts with the expertise and skills to monitor your access constantly and fix any issues. And most importantly, ensure your website is compliant with accessibility requirements.

Hire website accessibility experts

While web designers can help ensure your company website is digitally accessible, they do not have the technical expertise to handle ADA-related accessibility problems. This is where you need the technical knowledge of accessibility experts to detect common errors that obstruct your website compliance and prevent a lawsuit.

And these audits are much different from the website search engine optimization audits most marketing companies offer.
What Do You Do if You Get Sued?
The most important thing you should not do if you get sued is panic. Instead, remain calm, do not ignore the notice, and get your website audited. You need to hire professionals to assess where the website compliance issue is and remedy it as soon as possible.
Ironically, most companies receiving ADA lawsuits haven't even heard about digital accessibility. There are also quite a few companies that know about it but assume and believe their websites are accessible.
Whether you know or not about ADA compliance, you must ensure your website is compliant. The best way to decide what you need to do depends on a few factors:
The target issue
How much it takes to fight or settle, and for fighting and losing
The options weighed against each other.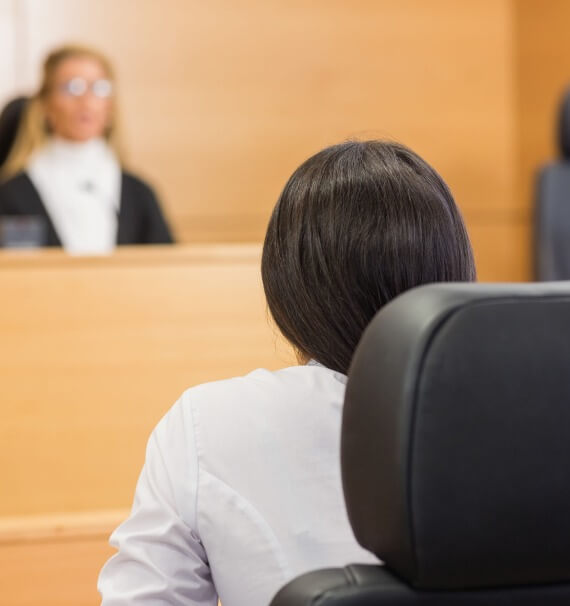 You may also wonder if you should settle or go to trial. You can decide best if you know the expected legal fees and costs of ADA lawsuits.
When it comes to costs, you need to include the cost of defense, business disruption, settlement costs, and potential remediation costs. This is why most ADA website lawsuits get settled out of court because it's cheaper than going to trial.
But do not make this decision alone. Instead, seek professional advice from an attorney or an ADA accessibility expert.
Will the number of ADA lawsuits reduce in the future?
No, despite the Winn-Dixie ruling, there has not been any reduction in the number of lawsuits.
California and New York continue to face maximum ADA cases.
And according to those who defend against ADA lawsuits in New York and California, there are only three expected scenarios wherein the number of ADA digital lawsuits may reduce.
They are:
If Congress makes amendments to the ADA
The DOJ issues some regulations
The Supreme Court resolves the federal court split.
FAQ
How do you respond to an ADA lawsuit?

If you receive an ADA lawsuit, you mustn't ignore them. Instead, please read it carefully and hire the right attorney. Get a website audit done, and make the necessary changes to your website. You generally get a maximum of 21 days to respond to the lawsuit. So make sure you document everything and make the required moves on time.

How do you stop an ADA lawsuit?

There is only one way to stop ADA lawsuits: planning and designing an ADA-compliant website and continuous user testing.

What are the consequences of violating the ADA?

Be ready for fines of up to $55,000 for the first violation and $110,000 for subsequent offenses if your website is ADA non-compliant.

Can you be sued if your website is not ADA-compliant?

Yes, you can face a lawsuit for websites that are not ADA-compliant.

Can insurance help with ADA lawsuits?

It depends, which is why it is always better to check your insurance policies if you have coverage against ADA website claims. Some specifically exclude ADA claims, and others treat claims differently based on the damage component in the suit.

However, no matter your coverage, it does not cover the remediation process.
Many assume their business websites are compliant and have nothing to worry about. They thus take things too lightly and do not do anything to check their website's accessibility until it's too late.
Prevention is always better than cure. So instead of worrying about what you should do if you face an ADA website lawsuit, focus on what you need to do to make your website ADA-accessible.
We at ADA Site Compliance know how challenging it is to maintain ADA accessibility per WCAG guidelines. We perform accessibility checks and help make the relevant decisions to protect your business and get your website compliant as quickly as possible.
So if you want help to make your business website ADA accessible, reach out to the #1 place for all ADA website compliance issues, adasitecompliance.com.
Share via:
Have a question?
We're always here to help.
The ADA prohibits any private businesses that provide goods or services to the public, referred to as "public accommodations," from discriminating against those with disabilities. Federal courts have ruled that the ADA includes websites in the definition of public accommodation. As such, websites must offer auxiliary aids and services to low-vision, hearing-impaired, and physically disabled persons, in the same way a business facility must offer wheelchair ramps, braille signage, and sign language interpreters, among other forms of assistance.
All websites must be properly coded for use by electronic screen readers that read aloud to sight-impaired users the visual elements of a webpage. Additionally, all live and pre-recorded audio content must have synchronous captioning for hearing-impaired users.
Websites must accommodate hundreds of keyboard combinations, such as Ctrl + P to print, that people with disabilities depend on to navigate the Internet.
Litigation continues to increase substantially. All business and governmental entities are potential targets for lawsuits and demand letters. Recent actions by the Department of Justice targeting businesses with inaccessible websites will likely create a dramatic increase of litigation risk.
Big box retailer Target Corp. was ordered to pay $6 million – plus $3.7 million more in legal costs – to settle a landmark class action suit brought by the National Federation of the Blind. Other recent defendants in these cases have included McDonald's, Carnival Cruise Lines, Netflix, Harvard University, Foot Locker, and the National Basketball Association (NBA). Along with these large companies, thousands of small businesses have been subject to ADA website litigation.
Defendants in ADA lawsuits typically pay plaintiff's legal fees, their own legal fees for defending the litigation, and potential additional costs. In all, the average cost can range from tens of thousands of dollars, to above six figures. There are also high intangible costs, such as added stress, time and human capital, as well as reputational damage. Furthermore, if the remediation is incomplete, copycat suits and serial filers can follow, meaning double or triple the outlay. It's vital to implement a long-term strategy for ensuring your website is accessible and legally compliant.