We at ADA Site Compliance are the #1 WCAG 2.2 service experts nationwide, ensuring all online websites comply with the WCAG 2.2 directives. We can even help make your inaccessible website ADA website compliant through a web audit and remediation.
The days of people turning to the yellow pages or the library for information are gone. People of all walks in today's fast-paced world depend practically entirely on the web, search engines, and mobile apps for everything they do. They use the internet for shopping, gaming, reading, making reservations, applying for jobs and universities, and basically for any search.
This is why it is now so crucial that web and mobile apps are equally accessible to everyone. This includes visitors with disabilities like motor impairment, partial blindness, and hearing loss.
So it is now mandatory for apps and websites to know and comply with web content accessibility directives to be accessible to these people with specific disabilities.
And this is where we can help.
What are the web content accessibility guidelines (WCAG)?
The WCAG defines how a website should be accessible to everyone, including those with disabilities. Web accessibility is not only based on content but also on other factors like how accessible web browsers are and authoring tools.
The directives also prove helpful for regular users facing significant challenges, like seniors with hands that tremble. Their trembling hands make it difficult for them to navigate websites.
While the guidelines cover multiple issues, they do not address all disability types, degrees, and combinations.
WCAG 2.2 benefits by Service Experts
WCAG offers multiple benefits to both web admins and web visitors. For example, the WCAG helps:
Promote internet accessibility for disabled people with poor vision, learning and cognitive disabilities, and motor movement problems.
Visitors with sleeping babies nearby peacefully watch videos without worrying about disturbing sounds by providing only captions.
Homemakers listen to recipes instead of reading them, thus providing added convenience while cooking.
However, to offer maximum WCAG compliance benefits, we will first ask you a few questions to learn more about your business, website, and purpose. Depending on your answers, we will decide on the right strategy.
Some questions we are most likely to ask to include the following:
Will your website be working on multiple devices and browsers?
Will your website have all features and components?
Are there any best site practices you want to highlight on your website?
It is based on the answers you provide that we accordingly make a web accessibility initiative by perhaps:
Using video or audio description instead of text,
Adopting appropriate procedures to ensure your website supports various operating systems and browsers
Using the help of WCAG to create a fully functional website that's easily accessible to diverse user groups.
Top 7 facts about web content accessibility guidelines you should know

The main international standards organization World Wide Web Consortium, the accessibility guidelines working group, lays out the WCAG accessibility guidelines. They keep updating them to the latest WCAG 2.2 to keep pace with emerging technologies and interfaces.
It, in the process, offers some interesting facts you need to know:
1. WCAG 2.2 is not the final version

The WCAG 2.2 release was supposed to be in June 2021, but it did not occur. It is still in the working draft state to be legally required in many countries once it becomes official.

2. WCAG 2.1 is the foundation for WCAG 2.2

Just like WCAG 2.0 formed the base for WCAG 2.1 guidelines, WCAG 2.1 was the base for WCAG 2.2 guidelines. This means that the enterprises that comply with WCAG 2.1 directives and A and AA conformance levels need not worry much about recent policy changes.

However, websites meeting earlier version guidelines like 2.0 may get affected.

3. WCAG 2.2 may have nine new success criteria

The existing draft indicates that WCAG 2.2 has nine new success criteria comprising:

Level A:

Accessible Authentication
Fixed Reference points
Redundant Entry
Findable Help

Level AA:

Dragging movements
Focus Appearance (minimum)
Pointer target spacing
Visible controls

Level AAA:

Focus Appearance (Enhanced)

These success criteria make it easy for visitors with low vision, motor, learning, and cognitive disabilities to access mobile devices. However, as the requirements are still in development, some may not reach the final draft.

There is also the possibility of some changes between levels. However, all enterprises conforming with Level access A and AA will not be affected much by any policy changes.

4. There will not be any WCAG 2.3

The next set of accessibility guidelines won't be called WCAG 2.3 but may instead be called WCAG 3.0 and won't be backward compatible. While its name isn't official, the initial working draft release will be soon, and the final version should release around November 2023.

5. Additional supporting documents

The W3C has a working group focusing on creating supporting documents to the guidelines. These documents will outline the appropriate methods to adopt in case of non-compliance with the new success criterion in the WCAG 2 series directives. The web accessibility guidelines published papers will also help understand WCAG 2.2 better.

And these additional supporting documents will help provide a better understanding of web content accessibility guidelines.
6. WCAG adoption of existing regulations unclear
There is no information about the U.S. Government adopting the WCAG guidelines in Section 508. Some US states, organizations, and higher education institutions have adopted WCAG 2.1. However, many haven't and are still on 2.0.
Accessibility advocates have, however, started referring to the WCAG 2.2 directives for litigations and settlement since July 2021.
WCAG 2.2 Checklist

Although there has been no official release of the WCAG 2.2 yet, we recommend that your digital assets conform to the latest standards as soon as possible. And with so many success criteria to be considered, the WCAG has a checklist to give you a headstart on WCAG 2.2 AA conformance.
Focus appearance

Focus appearance is an essential user interface component in academic and learning websites. It provides keyboard access to low-vision users for navigating web pages using focused, enhanced indicators like clearly visible cursors.

The minimal AA color contrast ratio of 3:1 is also increased to 4.5:1. This increase creates a better user experience for screen readers because the area receiving Focus stands out from the background.

Fixed reference points

This success criterion applies to all online electronic publications like EPUB, where assistive technologies help users navigate web content with page break locators.

Accordingly, all page numbers and similar page break location sensors should be easily accessible and similarly positioned without any accessibility barriers. It will assist users in adjusting the page style and identifying the beginning and end of even pages with different sections.

This is necessary for users who use assistive technology like screen readers to access documents. Locating pages or web content can get complicated if navigating specific pages and breaking barriers proves challenging.

Dragging movements

Users with motor disabilities may find drop and drag actions and adjusting sliders challenging to use. So the WCAG guidelines require that all drag and drop movements be possible through alternative motions like tapping, clicking, or a single pointer. Dragging should preferably be unnecessary unless essential.

Our web design team will create a more accessible interface for your website comprising keyboard-only navigation.

Pointer target size

Users with cognitive disabilities and limited fine motor skills may find it difficult to activate small touch-screen buttons or links. This success criterion requires that two user interface components have a minimum distance of 44 x 44 CSS pixels. This ensures users easily select targets using pointers and prevents the activation of wrong elements.

Findable help

This success criterion ensures users find no difficulty locating information like FAQs, chatbots, and messaging applications on web pages. We guarantee your website has all the associated data and help links in the same place on all pages.

Users can this way easily find help when needed. Similarly, we ensure websites with a contact page are easily accessible by users from anywhere on the site.

Hidden controls

According to this success criterion, we ensure all your website buttons and controls indicate their purpose to visitors. We also provide buttons that do not require actions like pointer hover to remain visible.

Accessible Authentication

Logging in can get tricky for users who forget their authentication details. An authentication process like a cognitive function test and having users remember or transcribe CAPTCHA information is also complicated.

An accessibility expert like us recommends using alternative log-in options, like two-factor authentication, instead of cognitive tests. We may let users reset passwords or authenticate websites through their email addresses.

Redundant entry-level

Filling too many forms multiple times with inputs like human contact details and addresses can be stressful for some users. To comply with redundant entry-level guidelines, we ensure your website lets users auto-fill information or use previously used information while filling out forms.

The only exception is in cases where security verification is necessary, like abandoned forms and forms requiring passwords.
WCAG 2.2 Conformance levels in comparison with prior versions

As WCAG 1.0, 2.0, and 2.1, WCAG 2.2 is also built on previous versions. This means that the WCAG has not removed any success criterion; instead, there have only updated or provided additional success criteria.
This is why WCAG 2.1 had 50 success criteria, and WCAG 2.2 now contains eight more and, thus, 58 success criteria.
The new WCAG 2.2 guidelines will help make disabilities on mobile devices disappear as each success criterion works towards increased web accessibility. And like the previous versions, WCAG 2.2 divides the testable success criteria into three levels- A, AA, and AAA.
So we start website compliance at conformance level A, then move onto level AA, and next, level AAA.
We start at level A because it is the lowest and most readily complied level, where we address `essential issues to make websites broadly accessible. We accordingly ensure your website:
Provides audio-video captions and text alternatives for visual and audio content
Presents orderly web content
Provides text transcripts and audio descriptions for videos with sound
It uses clear and helpful pages
It avoids providing instructions based on size, shape, or visual locations
Things get challenging in Level AA, which requires the maintenance of specific protocols like:
Maintaining a minimum color contrast ratio of 4.5:1 between background and text
Implementing single-point activation for functionality instead of dragging and dropping
Avoiding the use of text images or setting time limits for web pages
Providing easily accessed and precise assistance and directions
Offering straightforward audio content with minimal or no background noise
Level AAA is the most challenging level that is not always required as compliance proves challenging. Websites must comply with Level AA and meet other conditions like:
Providing live audio and pre-recorded video alternatives
Ensuring all web pages have contrasting text elements
Changing website elements only if a user requests one
Maintaining a minimum contrast ratio of 7.1 between text and background
How websites can be non-compliant with the ADA
Many mistakes can lead to sites being non-compliant with the ADA. Some examples are:
Not having assistive technologies that help the disabled to clearly and logically navigate web content.
Not having alt-text in website images which screen readers need to read
Using the wrong website colors and combinations makes it difficult for color-blind visitors to use the website. It is instead better to use high color contrast or bolding and underlining hyperlink text instead of changing its colors
Without clear and descriptive names, screen readers cannot read links and buttons.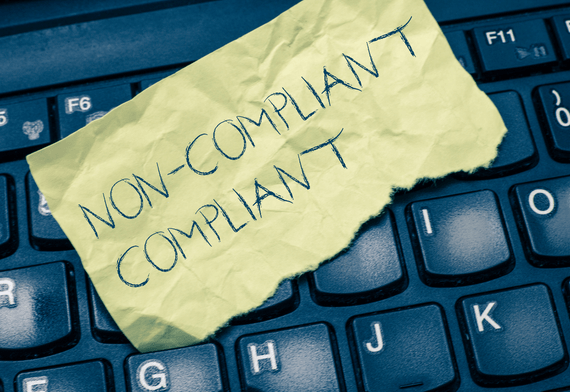 ADA non-compliant website penalties
Any website that is ADA non-compliant may be fined between $75,000 for the first violation and $150,000 for subsequent offenses. This is in addition to attorney's fees and the costs for a web accessibility audit and remediation.
The defendant also risks facing a lawsuit from plaintiffs with disabilities for their inability to access your website content. It does not matter if the plaintiff is someone applying for university, an e-commerce customer, or someone disabled trying to fill out an online job application form.
They all have the right to file a lawsuit for an inaccessible website.
In addition to these lawsuits and expenses, stress and reputational damage are involved. There is always the possibility of the plaintiff using social media to tarnish the defendant's business reputation. No website owner wants to be known as someone who does not want to simplify things and offer web access to people with disabilities!
Different types of accessibility testing services offered

We offer multiple accessibility testing services to ensure your website compliance. They include:
Manual testing:

With this testing system, our WCAG technical review expert testers will review your application or website. They manually test all possible scenarios using human contact mechanism to ensure your website conforms to WCAG standards.

Our automated testing system involves our team of testers using the help of automated accessibility testing tools to test your website accessibility. The benefit of this system is that it can quickly identify accessibility issues using minimal effort.

Native and hybrid mobile apps accessibility testing:

We use this accessibility testing system on all kinds of accessibility scenarios in the case of native and hybrid android and iOS mobile apps.

Web apps accessibility testing:

We here have our testers evaluating the accessibility of web apps based on multiple web content aspects like content readability, color contrast, and images.

Hardware testing:

This is where our expert team conducts an in-depth evaluation of your product's hardware accessibility. This is to ensure it conforms with section 508 and other standards and that the hardware is seamlessly accessible to everyone, including those with specific disabilities.
Frequently Asked Questions
These are some of the questions we are most commonly asked:
1. What are the four principles of Web Content Accessibility Guidelines WCAG 2.1 )?

The WCAG directives organize the success criteria into four categories- Perceivable, Operable, Robust, and Understandable.

2. Is WCAG 2.2 official?

According to the W3C timeline, a candidate recommendation for the working draft of WCAG 2.2 is expected by summer 2022. And the proposal should reach the proposed status and become official in September 2022.

3. Is WCAG 2.1 a legal requirement?

Currently, WCAG 2.1 is not in legal compliance for government agencies or under Section 508. The US Access Board will have to release an official process updating the revised standards per the updated WCAG to make it a legal requirement.
Digital accessibility isn't possible overnight

There is no doubt that equal access to any web or mobile device is now a fundamental right for people with or without specific disabilities. And with the impending release of WCAG 2.2, one thing is for sure.
Businesses must adopt the WCAG 2.2 accessibility guidelines to provide everyone with equal access to apps and fulfill all legal and regulatory compliance. Businesses must ensure everyone can access their apps, including people with motor, speed, vision, hearing, cognitive, and learning disabilities.
However, achieving this digital accessibility is not something you can expect to achieve overnight. It is an ongoing process because the laws will keep changing in response to user needs and requirements.
And with these changing laws, the WCAG success criteria will keep evolving. And this, in turn, means website owners like you will always have to keep updating your website to stay on top of your content.
The good news is that if you have the right people like us at adasitecompliance.com by your side, you no longer need to worry about WCAG 2.2 AA conformance. We are the #1 WCAG 2.2 service experts nationwide at ensuring all websites online have the necessary WCAG 2.2 features for an ADA-compliant website.
Share via:
Have a question?
We're always here to help.
The ADA prohibits any private businesses that provide goods or services to the public, referred to as "public accommodations," from discriminating against those with disabilities. Federal courts have ruled that the ADA includes websites in the definition of public accommodation. As such, websites must offer auxiliary aids and services to low-vision, hearing-impaired, and physically disabled persons, in the same way a business facility must offer wheelchair ramps, braille signage, and sign language interpreters, among other forms of assistance.
All websites must be properly coded for use by electronic screen readers that read aloud to sight-impaired users the visual elements of a webpage. Additionally, all live and pre-recorded audio content must have synchronous captioning for hearing-impaired users.
Websites must accommodate hundreds of keyboard combinations, such as Ctrl + P to print, that people with disabilities depend on to navigate the Internet.
Litigation continues to increase substantially. All business and governmental entities are potential targets for lawsuits and demand letters. Recent actions by the Department of Justice targeting businesses with inaccessible websites will likely create a dramatic increase of litigation risk.
Big box retailer Target Corp. was ordered to pay $6 million – plus $3.7 million more in legal costs – to settle a landmark class action suit brought by the National Federation of the Blind. Other recent defendants in these cases have included McDonald's, Carnival Cruise Lines, Netflix, Harvard University, Foot Locker, and the National Basketball Association (NBA). Along with these large companies, thousands of small businesses have been subject to ADA website litigation.
Defendants in ADA lawsuits typically pay plaintiff's legal fees, their own legal fees for defending the litigation, and potential additional costs. In all, the average cost can range from tens of thousands of dollars, to above six figures. There are also high intangible costs, such as added stress, time and human capital, as well as reputational damage. Furthermore, if the remediation is incomplete, copycat suits and serial filers can follow, meaning double or triple the outlay. It's vital to implement a long-term strategy for ensuring your website is accessible and legally compliant.